This week's featured Pet Tales are Oliver and Remington. These guys are 10 and 7 years old respectively and a bonded pair. They are bestest of buddies who are looking for a loving home together. Not only do you get a 2 for 1 special on this bonded pair…you get ½ off the senior adoption price as well.
Compacted, low rider boy at your service! The name is Remington and I'm one stocky guy that is looking for a home to call my own again with my older brother, Oliver. We are two peas in a pod and once you see us and meet us you will notice just how much we love each other. Who would want to break that bond!? Certainly not us! Anyways, I'm one affectionate boy once I realize you are meeting me to take me home. It takes me a wee bit of time to break out of my shell but if you get on my level, I'm actually quite the cuddle bug! I'll love snuggling beside you and enjoying every minute of it. Although I like to snuggle, I'm still a spry and mature fella that will enjoy going on walks with you, exploring with you, and engaging in some fun with you. I really am a sweet boy, you just need to give me a minute and you'll see that bright personality shine through! So, how about you, me, and Oliver hit the road on home!?
https://www.adoptapet.com/pet/22685630-san-luis-obispo-california-dachshund-mix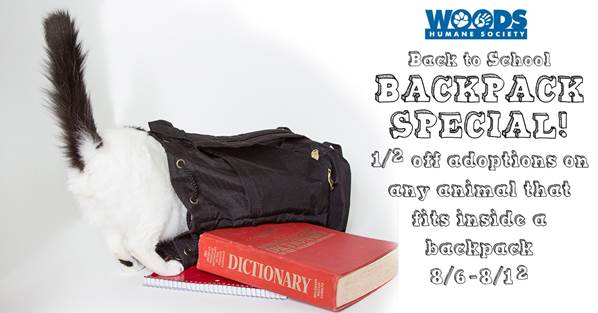 Woods is hosting a Back to School Special and offering ½ priced adoptions on all of the animals who fit inside a backpack. Check out all of the available animals online at woodshumane.org.