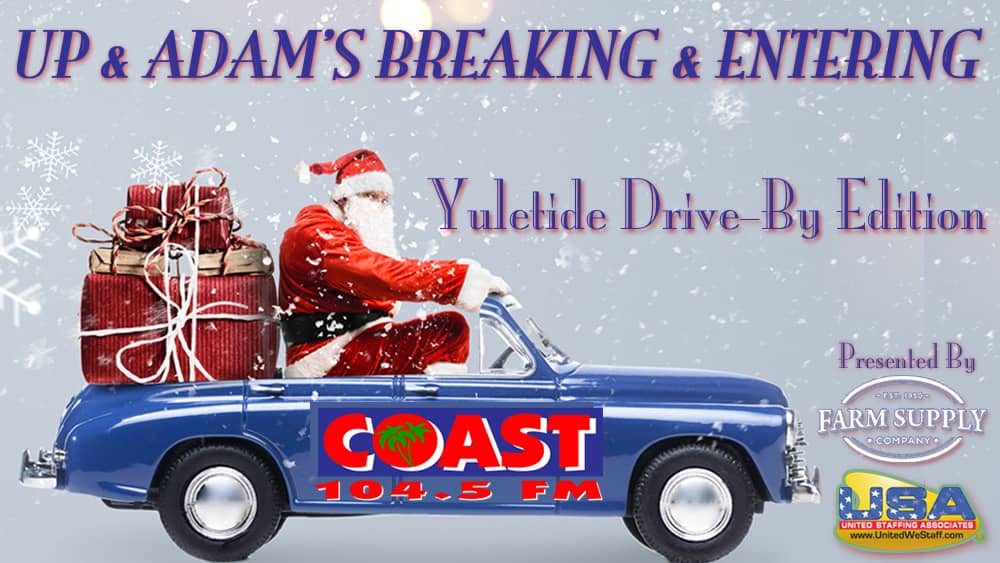 Coast 104.5, Farm Supply and United Staffing Associates are teaming up for some very special Feel Good holiday fun!
Up & Adam's Breaking & Entering…the Yuletide Drive-By Edition!
It's year number seven working with you, our community, to find a family who needs some uplifting holiday cheer. As in year's past, we ask you to hop onto nominate a family living on the Central Coast that may not otherwise have a Christmas that's merry and bright.
Our plan is to find a family in need and deck their halls with all kinds of goodies and love! And, this year, to keep it safe for everyone, we're turning our delivery day into a super fun drive by drop off…it's like a big glittery holiday porch bomb to brighten the holidays for a family who deserves it!
And, if you'd like to donate and help us go big on this, please reach out and let us know on the textline at 805-783-1045…anything big or small will go a long way!
Up & Adam's Breaking & Entering: Yultide Drive-By Edition presented by Farm Supply & United Staffing Associates
Farm Supply, proud to be part of the Central Coast communities for over 70 years providing all your home, farm and ranch needs. Wishing everyone a happy holiday season! Remember to nominate a family for this special Feel Good holiday gift at Coast 1 oh 4 5 dot com!
United Staffing Associates with three locations on the Central Coast to serve you, whether you need a job or you are a business and need help with Staffing, payroll and human resources. Log onto united we staff dot com.