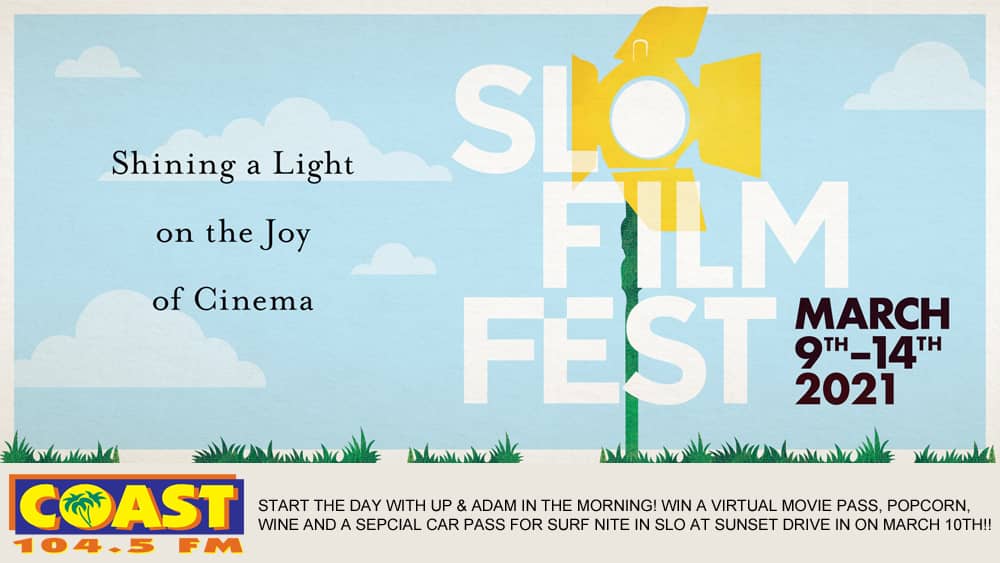 27th Annual SLO Film Festival goes virtual, March 9th – 14th…films, special events, panels, Q&A's and more!
Plus! The popular Surf Nite in SLO at Sunset Drive-In on Wednesday, March 10th (or watch it virtually) – double feature 'White Rhino' & 'Endless Summer' – Adam Montiel hosts! Get tickets here!
Win big with Up & Adam in the Morning! Instant win a virtual movie pass and pick a movie to watch at home during the festival PLUS qualify for our grand prize with a special swag bag including popcorn and wine AND a free Car Pass for Surf Nite at Sunset Drive-In!
Surf Nite Movies:
White Rhino – Iconic footage and photos from some of the best surf filmmakers in the world with stories from Big Wave surfers and who witnessed three historic swells that hit the shorelines of the South Pacific in 2011-2012.
Surf Nite: Endless Summer– 1964 Classic Follow surfers on a fun-loving adventure around the world as they chase the perfect wave.
We think you'll like this one too! Find out more on all the film fest fun at SLOFILMFEST.ORG!
Banksy: Most Wanted – With Banksy, the question is not about his art, but something much more basic — who is he? How can someone so provocative, and who stirs up so much emotion, manage to stay so hidden? BANKSY: MOST WANTED combines a journalistic approach and love of art in a true modern day whodunnit.