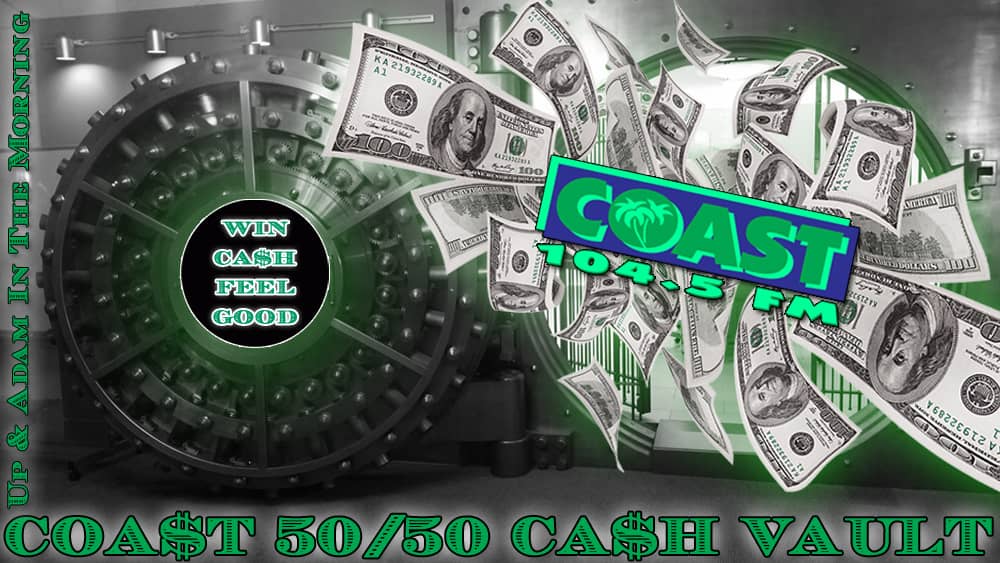 The Coast 50/50 Cash Vault is opening with Up & Adam in the Morning!
This means cash money for YOU and some feel good fun for the whole community with one thousand dollars up for grabs!
Starting Friday, 4/30/21!
Every weekday, Adam Montiel opens the vault between 6 and 10am!
When you hear Adam's cue to call Vault Sounder, call 805-783-1045!
First in on the phone lines WINS $50 bucks on the spot AND qualifies for the Grand Prize!
Think about your favorite SLO County Non-Profit organization! Adam will ask you to nominate them when you qualify! One lucky Grand Prize winner scores one thousand dollars to split with their favorite local non-profit! Yep! $500 in your pocket AND $500 that we'll donate in your name!
Get heads up on when Adam opens the vault next, weekdays at 12:10 with Becky and 5:10 with Cheeba!
Keep it LOCKED on Coast to win! We are your Feel Good Favorites, Coast 104.5!
—————————————————————————————————–
Rules & Regs
All standard Coast 104.5 Contest Rules Apply in addition to the following:
DAILY CONTEST START DATE: Friday, 4/30/21
DAILY CONTEST END DATE: Thursday, 5/27/21
GRAND PRIZE WINNER ANNOUNCEMENT: Friday, 5/28/21
First caller on the phone lines when the cue to call sounder plays on its own, in its entirety between 6-10am wins the $50 qualifying prize and is entered into the Grand Prize drawing.
Grand Prize Winner will be contacted directly for instructions on how to claim their prize.
Grand Prize winner will be announced on Friday, 5/28/21 on air on Up & Adam in the Morning between 6-10am.
Nominated non-profits must exist in San Luis Obispo County to be eligible for cash donation in Grand Prize package.