Coast 104.5, Farm Supply and United Staffing Associates are teaming up for some very special Feel Good holiday fun! It's Up & Adam's Breaking & Entering Christmas!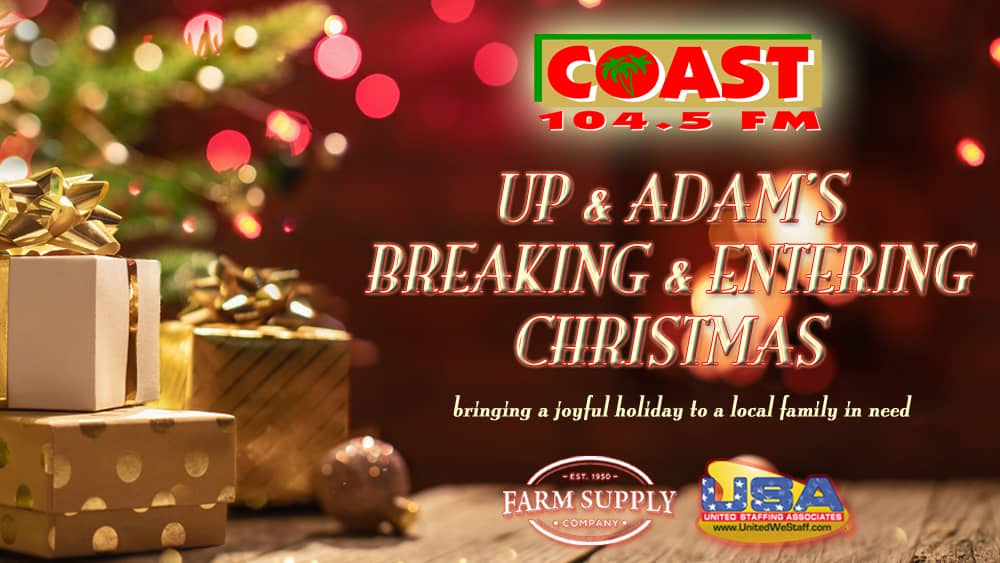 Here we go for year number EIGHT! Each holiday season, we work with you, our community, to find a family who needs some uplifting holiday cheer. We're talking gifts, decorations, food and more! Help us brighten the holidays for a family who needs it!
Right now, we're asking YOU to nominate a family living on the Central Coast that could use some help making Christmas happen. Just fill out the form below!
NOMINATION DEADLINE EXTENDED TO WEDNESDAY, 12/1 at 10am!
And, if you'd like to donate gifts, gift cards, decorations or anything else to help us go big on this, please reach out to Adam, 6-10am, on the Coast Textline at 805-783-1045…anything big or small will go a long way!
Thank you to Farm Supply and United Staffing Associates for their ongoing support of this special holiday gift in our community. We could not do this without them!
Farm Supply, Your local farmer owned cooperative. Serving the Central Coast communities for 70 years! Open Monday through Saturday for all your Western Wear, Equine, Pet, Livestock and Holiday needs with 5 locations in Paso Robles, San Luis Obispo, Arroyo Grande, Santa Maria and Buellton. Find them online at farmsupplycompany.com!
United Staffing Associates, Providing staffing and career resources and expert help. Also, services in HR consulting, safety training, recruiting, payroll and more. Serving the Central Coast with offices in Paso Robles and San Luis Obispo. And, job seekers! USA can help you find the work you need. Find them online at unitedwestaff.com!